Although sizable numbers of Greeks have immigrated to the U.S. South, very little has been written about these communities, especially where I live—Richmond, Virginia.  Historian Lazar "Larry" Odzak's "Demetrios is Now Jimmy" Greek Immigration in the Southern United States, 1895-1965 (2006) is the "go-to" text on the region; a few articles can also be found through the Modern Greek Studies Association's website and the Journal of Modern Greek Studies.  Thus, with very few secondary sources to work with, I have turned mostly to primary sources to learn about the Greek experience in my hometown.
One of the most valuable sources for studying Greek immigration in Richmond is the Library of Virginia.  The Library provides free access to Ancestry.com, which has not only digitized the U.S. Census, but also has made it searchable.  I also used city directories, many of which were on microfilm. Finally, the Library's collection of maps helped me gather information on where people worked and lived. Together, these sources provided a multifaceted way to answer some (although not all) of my research questions: Where did Greek immigrants live in Richmond? Was there an ethnic enclave?  Did they own their home or rent? Who were their family members? Did they have jobs? If so, what kind of jobs and where did they work?  Were they able to read and write? When did they immigrate?  Did they naturalize and, if so, when?
I must admit that getting to this information meant venturing into uncharted waters. While I have acquired some research skills from my BA and MA programs, I admit we did not receive any training on research methods outside the use of the familiar online databases in the university library. For this reason, I offer this advice to fellow graduate students in a similar position—reach out to a librarian or archivist wherever you go to research! With the help and enthusiasm of professionals from several Richmond libraries, archives, and historical societies, I found more than I could imagine on my topic. I even had one librarian tell me "I wish more people used us as a resource, I guess they are just scared." Librarians were also the ones who taught me how to utilize "old school" research equipment like the microfiche reader (pictured below), an audio tape player (which I've used before, but it's been a while), and how to load microfilm reels correctly.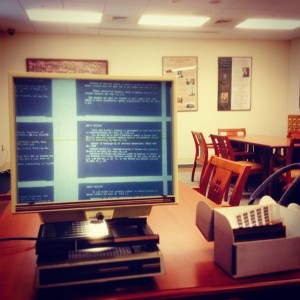 Microfilm Reader
Another valuable source for researching Greek immigrants is to seek out the local Greek Orthodox Church. If records are available, they can provide a lot of valuable information. Churches usually maintain records of baptisms, marriages, and funerals, and can tell a researcher a lot about a family.  This information is especially important if you are looking for immigrants who had children, got married, or died in Virginia between 1897-1911; the State of Virginia did not maintain vital records during this 14-year period. Church bulletins and records from men's and women's societies, youth groups, and charity organizations provide additional insight into the community and its interaction with outsiders.  Changes in a particular group's missions and activities are also a way to measure acculturation. For instance, Richmond's Philoptochos Women's Society originated in 1918 as a way for Greek immigrant women to fundraise for their new church and to help fellow Greek immigrants in need. By the 1950s, the organization focused its charitable efforts on raising money for non-religious, local institutions such as Children's Hospital. The shift in Philoptochos's activities points to changes in Richmond's Greek community and its relationships with the outside community.
Church Records
There is also a possibility that oral history projects already exist for the particular group you're interested in. In my opinion, oral histories are the least utilized resources in our field. In the 1980s, a scholarly movement towards "history from below" prompted widespread interest in oral history. For this reason, countless interviews were collected across the country, including the voices of immigrants. Despite the perceived obscurity of my subject, I found an oral history collection from the 1980s on audiocassettes and twenty-one interviews with Greeks in Richmond at Virginia Commonwealth University's Special Collections. The interviews were not transcribed, so I spent countless hours listening to the tapes. In the end, these interviews served as the most important sources in my study.
Interview tapes and player
For scholars studying immigration in the twentieth century, it is likely that there are members of the particular immigrant group still living whom you can interview. Providing the immigrant's voice to your analysis will give additional insights that are otherwise lost in other types of sources. To prepare for collecting oral histories, I highly recommend using Valerie Raliegh Yow's Recording Oral History: A Guide for the Humanities and Social Sciences. Yow's text is full of helpful advice for collecting oral history interviews, templates for interview questions, and permission slips.
If you are studying a local group, finding subjects is much easier. Since I am a member of the Greek community in Richmond, I was able to turn to people in my community for possible subjects. However, if you do not have this advantage, I suggest contacting a prominent member of the group—a pastor or other type of religious leader. I learned from Valerie Yow and from my own experiences that, once you find one individual to speak with you in a community, you should ask them to recommend other people to interview.